Interview with Eliška Kollerová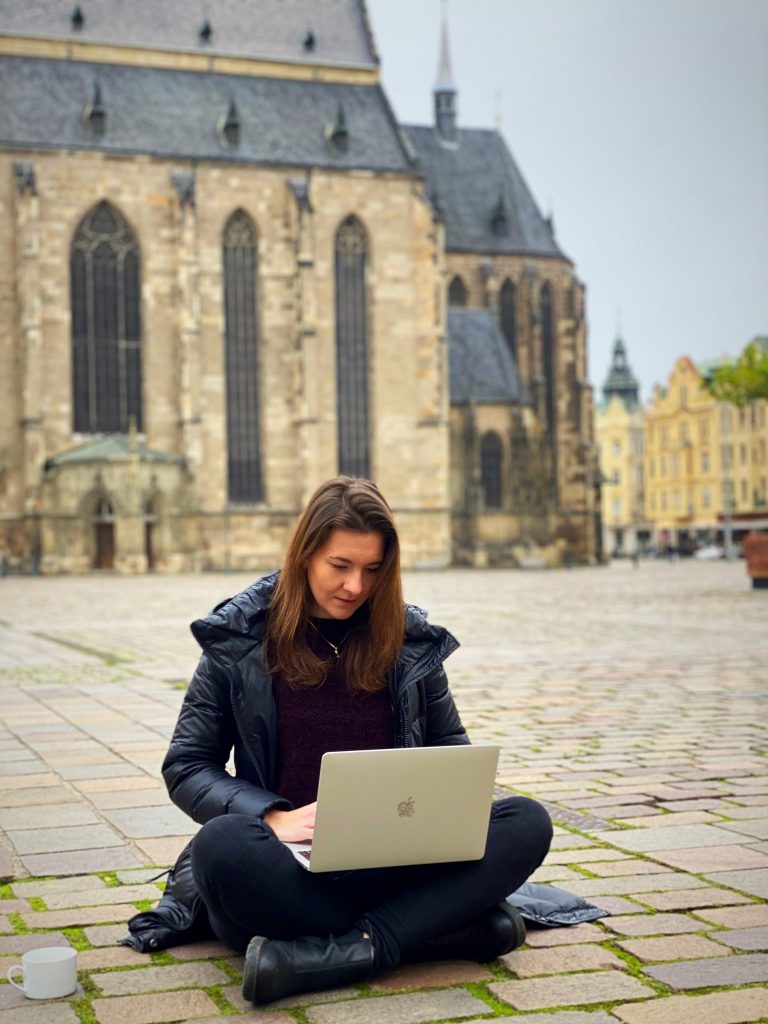 As they say, all bad is good for something and I was brought to UBK by the spring pandemic. In my previous job, I toyed with the idea of joining a small family business for a long time. And it was Covid and its impact on external employees in the previous company that made my decision easier. From day to day I was free and open to new opportunities.
How did you find the company and why were you interested in UBK?
UBK actually found me. In order to find a new job, I chose an unofficial way of looking for a job. I published an article on the social network where I described my experience, my knowledge and my interest in IT. David Lukeš, my former classmate from the WBU, responded to this article and said he would ask the UBK management if I could be useful. I have to admit that I did not even expect a permanent job at UBK. I was only looking for a part-time job and the opportunity to write my thesis in the company. I also planned to fly to Iceland in the winter semester and possibly work remotely. In my opinion, I was a completely hopeless employee. The UBK company was not the only one in the search for potential employers, but it was the only one that took all my requirements into consideration, and especially when entering the UBK premises I felt a relaxed atmosphere and such a feeling – Yes, so here I will enjoy it!
What were the beginnings in the new job like?
After looking around for the first time I couldn't stop wondering what team I was in. It should have warned me that in my employment contract was stated: Job Position – Programmer. On top of that I was accepted into the PHP team. Me, a girl who got PHP to the point during one semester. I was a bit afraid that I might not be in the right place, but I took it as a challenge and started working on my first job. My team leader Kamil said to my first creation: "Well, it's not entirely disgusting" and I took it as the climax of praise. As a result, it was much asked for, learned, tried and discovered. My start at UBK was not easy even for the team leader. I was supposed to leave the Czech Republic after one month and work remotely, which is not ideal for the training. But finally I only took a short vacation and returned to my job after a week. When I came back, a surprise awaited me in the form of a role change. Due to the nature of my diploma thesis, I was offered the position of a project manager, which I accepted with great enthusiasm.
What roles do you play at UBK?
Currently I would call my official role in the UBK Junior Project Manager. So far I have taken over smaller projects and try to manage them and facilitate the communication between developers and customers. Another role is the WordPress editor. I got to know web development and WordPress during my studies and this is the position I actually wanted to go to UBK for. Then there are the unofficial roles, like the only girl in the team, a brigadier, a florist, a corporate yoga teacher and a friend.
What do you most enjoy doing at work?
What I like most about working at UBK is that I have the opportunity to go to work, but mainly to be in a team and create meaningful projects. I like to learn something new every day here, whether it's in project management or development. I enjoy meeting new and existing customers and watching how their ideas are realized with the help of information technology.
What was it like to start in a new company during the Covid period?
Joining a new company during the Covid phase was so fast and full of changes. During the 5 months I have been with UBK, I have experienced the company's move to new premises, the transition to home office, quarantine and stricter measures. I am very happy that the next Covid wave did not affect my position at UBK and therefore I tolerate the second Covid wave much better than the first one. When I go to work, I sometimes forget that there is such a thing as Covid.
How do you prefer to spend your free time and is it compatible with your current work?
The current situation does not allow me to dedicate my free time to my favorite activity, which is traveling. There are already many visited destinations on my travel list, but some are still waiting there. The closest and in the near future probably most realistic one is Iceland and the next but one in order is Japan. What I appreciate most about working at UBK is that I can do it from anywhere and at any time, because it is very compatible with my favorite pastime. I hope that my company emails will come from Iceland starting in February. Since I work mostly sitting, I try to spend my free time moving around. I regularly practice yoga and spend time outdoors with my family, sometimes on runner tracks, training playgrounds and sometimes in the saddle of a bicycle. And then such girl classics as cooking, baking and reading.
Will you continue to see yourself at UBK in the future and if so, why?
In the foreseeable future I cannot imagine working anywhere else. I do work that I enjoy and that I have always wanted to do, at the same time I study to be able to do it. What will happen after I finish my studies is hard to predict, but I definitely won't miss another summer at UBK.
#UBKnews #UBKoffice #UBKgeek #UBKgirl #Eliska #worker #satisfiedworker #interview #aboutjobinUBK #workinUBK #opportunity #travel #study #programmer #projectworld #projectprocedure #fulltime #plzen #czechrepublic